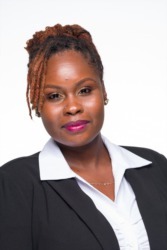 Meet April Baker, the real estate agent who has a military and technical background. Don't let her military background scare you, though. She won't be barking orders at you during the house-hunting process. Instead, she'll be delivering the same dedication and passion to you as she did while serving her country. You can trust that she won't rest until you've found your dream home.
When she's not busy scouting out the hottest properties, April enjoys spending time with her family doing recreational activities. You might even catch her practicing her tactical maneuvers while playing a game of Capture the Flag with her kids.
April's commitment to her clients is unwavering. She's dedicated to working hard for every person who chooses to work with her. And let's be real, with her technical expertise, she can probably hack her way into getting you the best deal possible.
So, if you're ready to find your perfect home, don't hesitate to call April. She's the real estate agent who will go to battle for you (figuratively, of course).